This will be our last sprinkler blowout post at least until Monday or Tuesday as we update the progress on the needed repairs. We have completed all our sprinkler blowouts for this season except for a handful that need repaired before they can be blown out, or ones that have backflows or filters on the surface that weren't drained prior to our arrival that have frozen where we can't get to the "goods" underneath.  Some we were able to thaw, but others can't be because they are either plastic, or so close to the ground that we can't do anything with it at this point.  Here is a perfect example.  Not only is this backflow device not installed correctly, (to the point where the water purveyor could turn off the water going to their home if it isn't fixed,) there isn't a blowout port, and it is frozen.  As a licensed backflow tester and installer, I am supposed to inform the water purveyor of such things within 15 days of finding a problem.
These PVB (Pressure Vacuum Breaker) froze for two reasons. 1. The water wasn't turned off and unit drained by opening the test cocks and drain valve in the ground. 2. Even if they had been it wouldn't have worked because the #2 test cock is facing straight up where it can't drain which is an incorrect install, or because the test cocks were plugged with threaded plugs, or totally missing altogether with threaded plugs in their place. Any of these scenarios means a high probability of freezing as these did.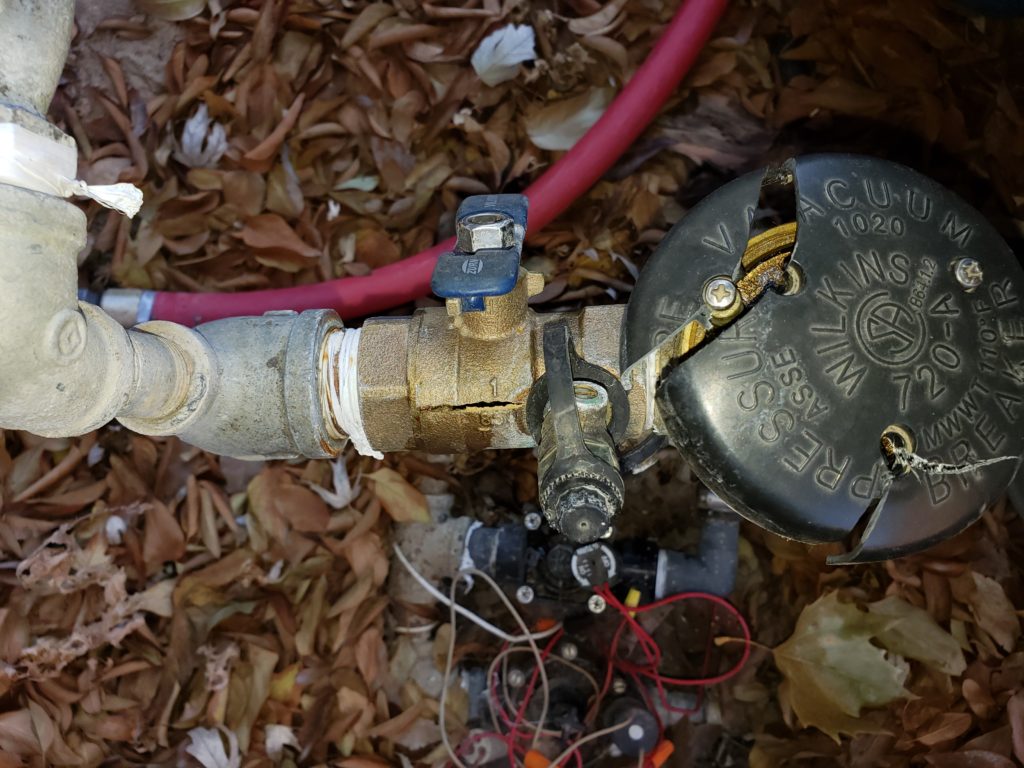 The freezing of these devices could have been avoided had they been installed correctly to begin with, or not altered. They all will have to have repairs made before they can be turned on in the spring.